Shape Number
X590.12Z
Grit
Coarse
2012847
Minor Diameter
n/a
Major Diameter
1.2mm
Abrasive Length
12mm
One per pack.

Did you know?
Only the Two Striper® diamond bur is manufactured with the P.B.S.® diamond-particle bonding process.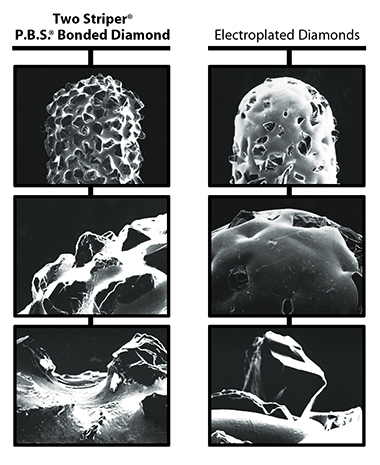 Consistent Performance/Superior Quality
100% Ring Gauge Inspection for Shank Concentricity

100% Visual Inspection

100% Weight Control for Diamond Coverage
Discover the Technology
Faster, Cooler Cutting and Longer Lasting
P.B.S.® braze is a bonding process that maximizes the exposure of diamond-cutting surfaces – especially at the tips and upper circumference of the diamond instrument where most cutting occurs. Crystals, placed evenly and precisely in a uniform matrix, are fused permanently to a surgical-grade stainless-steel shank; they are guaranteed not to fall out.
Diamond particles on electroplated tools are trapped mechanically in inconsistent plating layers that can expose either too much or too little of the particle. Some particles are attached loosely and are prone to premature dislodgement. Other particles are buried completely in the plating layer and are unavailable to cut tooth structure, creating unnecessary heat and friction. Electroplated diamonds cut less consistently than Two Striper® diamonds1 and have a shorter product life. The combination of permanent crystal attachment, precise placement at the top and maximum crystal exposure makes Two Striper® faster, cooler cutting and longer lasting.
Natural, virgin diamond crystals on Two Striper® rotary instruments contain more corners and angles than the synthetic diamonds used on electroplated burs.
Two Striper® optimal coarse grit is preferred over supercoarse grits.
Super-coarse particles are bigger and require more plating to hold them. More plating means less diamond coverage overall. A recent study found no difference in cutting rates between electroplated coarse and super-coarse diamond grits2 . While matching performance, Two Striper® offer cooler cutting and are longer lasting! Two Striper® optimal coarse-grit diamond crystals are attached permanently and are guaranteed never to strip or peel.
TSZtech™
Highest rated all ceramic-cutting especially effective on today's new generation of tougher ceramic materials.

Those materials include but are not limited to:
IPS e.max®

BruxZir®

Lava™ Plus

Cercon®

Zirlux® FC

Obsidian™

IPS Empress

Procera®

Lava™ Ultimate
TSZtech® Contraindications – Will not cut or separate metal.

Recommended for Zirconia and Lithium Disilicate.

® IPS e.max, BruxZir, Cercon, Zirlux FC, IPS Empress, Procera are not registered trademarks and ™ Lava Plus, Lava Ultimate and Obsidia are not trademarks of Premier Dental Products Company.
Intra-oral Adjustments
285.5Z Football
Image courtesy of Shalom Mehler D.M.D.
Atraumatic Crown and Bridge Removal

770.8Z Round-End Taper
Section and Remove
Images courtesy of Abdi Sameni D.D.S.
Endodontic Access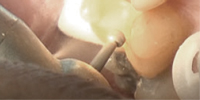 125Z Round