Alfa Triple Tray – Revolutionizing Full-Arch Closed-Mouth Alginate Impressions
Improves patient comfort
Virtually eliminates gagging – Unique palate-free, patent-pending design engages the patient's tongue to restrict the overflow of material and eliminate gagging!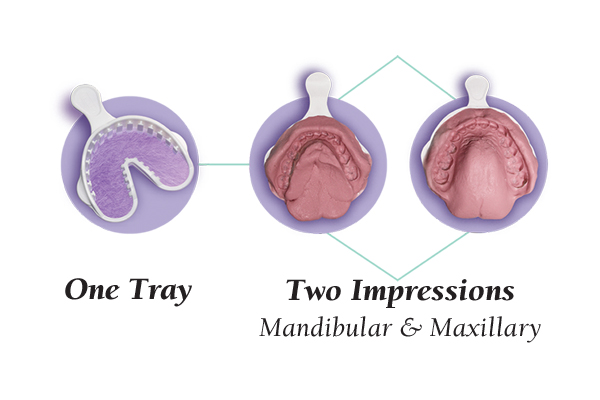 Take one impression, not two – You significantly improve the patient's experience – the mouth is closed in a more natural, comfortable position. Alfa™ Triple Tray® requires about half the amount of alginate used in existing techniques.
Cuts chair time in half
By simultaneously capturing upper and lower impressions plus the bite registration, significant time is saved – at the chair – where it counts most!
Hands Free – Alfa's closed-mouth technique frees the operator from holding the tray in place. While the material sets, the mixing area and utensils can be cleaned.
Promotes asepsis
Alfa Triple Tray offers a better presentation than unsightly reusable metal trays and avoids potential cross-contamination. Alfa trays are disposable – no clean-up required.
Innovative Tray – for a variety of products.
Easy to use – with excellent results
Alfa Triple Tray is ideal for full-mouth alginate impressions taken for the fabrication of custom trays, whitening trays, study models, night guards, athletic guards and as a matrix for temporaries. Also, Alfa can be used with alginate substitute vinyl polysiloxane (VPS) material.

U.S. Patent #6,749,428 / ALFA™ Triple Tray® impression trays are single use, disposable trays. Using a tray with multiple patients may cause cross-contamination; take proper precautions.
Box of 24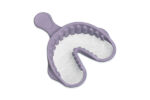 Alfa Triple Tray
1006313
Small (purple)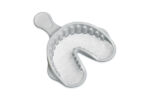 Alfa Triple Tray
1006323
Medium (white)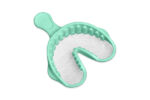 Alfa Triple Tray
1006333
Large (green)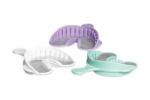 Alfa Triple Tray
1006343
Assorted:
(5) Small, (14) Medium, (5) Large