Place order through your dealer
Place order through your dealer
T-LOC™ Triple Tray® – Adhesive-free Dual-arch Impression Trays
Patented adhesive-free design – Retention tracks mechanically lock in material, eliminating the need for adhesives.

Easier handling – Large, ergonomic handles simplify loading of the dual-arch tray, enable easy transfer between assistant and dentist.

Thin, loose webbing, identical to

Triple Tray

, maximizes intercuspation of the teeth to ensure an accurate bite.

Greater rigidity in posterior crossbar due to the use of a new, novel polymer.

Ensures accuracy and saves time – Low sides, thin posterior bar and wide impression areas avoid impingement when the patient closes on the dual-arch tray.
Contact us to learn more about the various dental impression trays we offer at Premier Dental. Our experts are standing by to assist your dental practice today with innovative and trusted dental product solutions. We want our customers to know that we promise to go the extra mile, every time.
U.S. Patent #6,749,428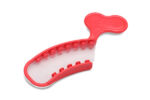 T-LOC Triple Tray
1006204
Posterior
Box of 35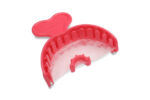 T-LOC Triple Tray
1006214
Anterior
Box of 28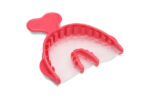 T-LOC Triple Tray
1006274
Three-Quarter Arch
Box of 22