Shape Number
2003.10
Grit
Coarse
2000040
Minor Diameter
0.9mm
Major Diameter
1.4mm
Abrasive Length
10mm
Available in convenient 5-packs.

Recommended use: Chamfer Prep
Creates a chamfered finish line.

Recommended prep design for full coverage crowns and veneers.

Recommended prep design for ceramic and PFM crowns.

Two Striper® Ultra-Premium Diamond Burs
All diamond burs are not created equal
Always the Diamond Standard, Two Striper® stays sharp longer and delivers faster, cooler cutting than electroplated brands. Which means fewer burs, less chair time and happier patients. Made from a select grade of natural diamonds, only Two Striper burs are developed with a proprietary P.B.S.® brazing process that is recognized as the best bonding system in the industry. You can count on Two Striper® for efficient, predictable results.
Two Striper: Better Value = Dentist's #1 Choice1
Cuts faster & cooler – less chair time, happier patients

Stays sharp longer – than 'bargain' diamonds

Proprietary P.B.S.® brazing process – diamonds stay sharper & stay put!
Don't be fooled by 'bargain' burs!
The Experts Prove Two Striper is Best!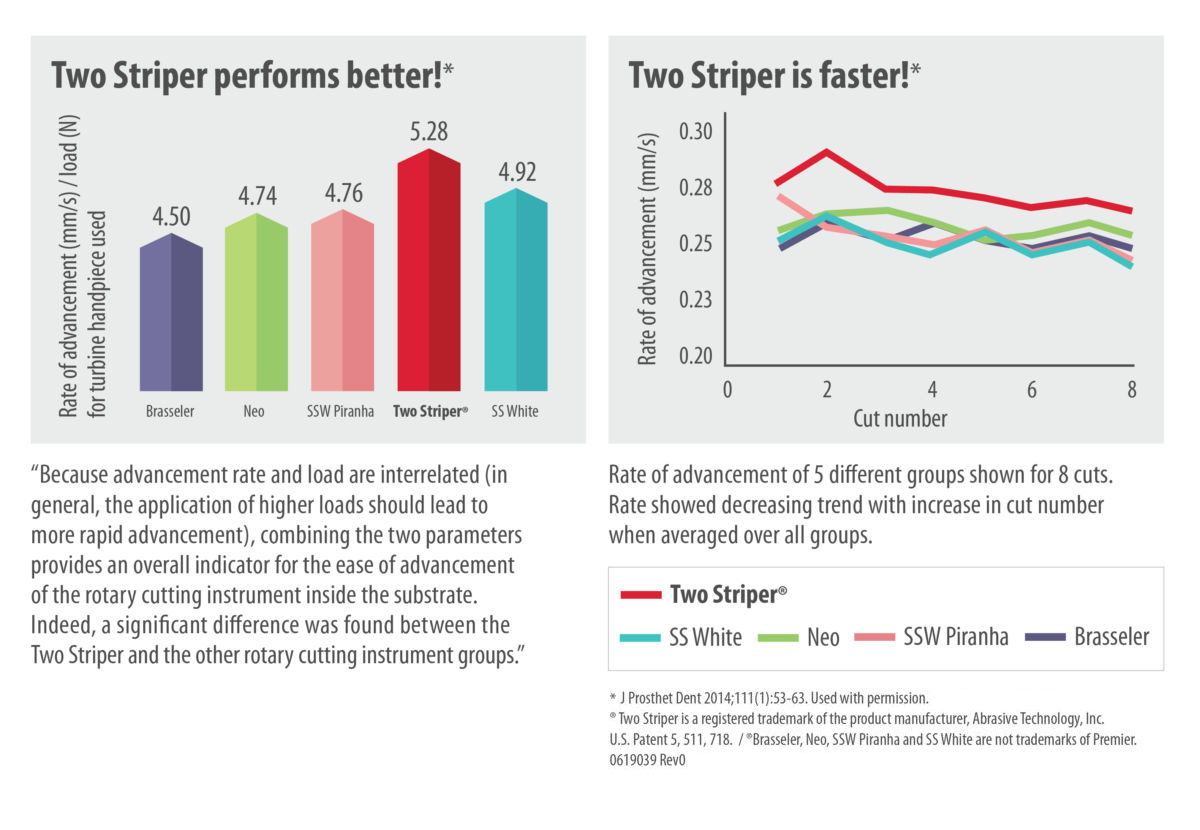 TS2000™
Less chair-time for you and your patient.
TS2000™ saves time and money by simultaneously performing rapid gross reduction and creating a finished margin without changing instruments. The TS2000™ is truly two diamonds in one.

Consistent clinical performance.
On average, TS2000™ is 50% faster than other spiral designs – even after eight preparations5. This unique coarse diamond is designed to cut cooler and faster than electroplated super-coarse diamonds. The spiral action circulates water-spray more efficiently to reduce heat energy and accelerate cutting.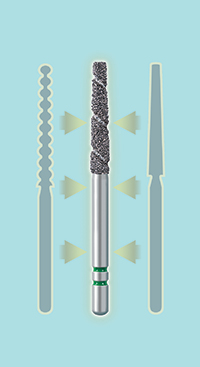 Two Diamonds in One
TS2000™ provide rapid gross reduction and a finished margin without changing burs.