Place order through your dealer
Place order through your dealer
Fluoride-Releasing, Automix Dental Composite Core Build-up Material
Advanced Formula, Dual-Cure CompCore™ AF
Provides exceptional performance and the enhanced light-curing properties save considerable time. If light-curing is not an option – allow CompCore™ AF to self-cure in 4.5 minutes intraorally!

Improved natural appearance
The greater translucency of the enhanced CompCore AF presents a more natural tooth appearance which minimizes the chance of shadows under ceramic crowns- yet provides good contrast and excellent radiopacity.

Outstanding handling for ease of use
CompCore AF Stack will stay put – even in difficult maxillary core build-ups, yet flows under pressure for excellent adaptation. Preps like dentin without ditching.

Superior durability for peace of mind
CompCore AF dental composite core build-up material utilizes exclusive Hyperbranched Technology™1 and nano-fillers for superior mechanical properties and long term clinical success – available in automix SyringeMix™ and cartridge dispensers.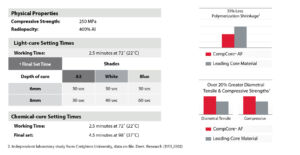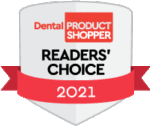 SyringeMix STACK: Dual-Cure/Automix
2 – 9g automix syringes

15 – mix-tips

15 – standard intraoral tips

10 – extra-fine intraoral tips
Cartridge STACK: Dual-Cure/Automix
1 – 50g cartridge

Type-25 gun

4ml each IntegraBond & Auto-cure Activator

25 – mix-tips

25 – intraoral tips
3001430 Intro Kit / Shade White
3001431 Intro Kit / Shade A3
1 – 50g cartridge

25 – mix-tips

25 – intraoral tips
3001418 SyringeMix Mix-Tips & Intraoral Tips (35)
3001468 SyringeMix Extra-Fine Intraoral Tips (50)
3001417 Cartridge Mix-Tips & Intraoral Tips (35)
Bonding Agent
(use only bonding agents compatible with dual-cure composites, such as IntegraBond™)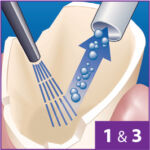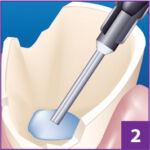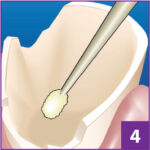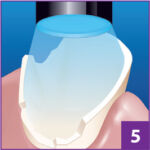 1. Clean and dry prepared tooth surface.
2. Apply 37% phosphoric acid to the cavo surface for 10 to 15 seconds.
3. Rinse and dry cavo surface, do not desiccate the tooth.
4. Apply first coat of IntegraBond™ on prepared cavo surface. Allow to sit for 15 seconds, and then air dry.
Apply 2 to 3 more coats; without waiting, dry again after last application.
5. Light-cure for 20 seconds
Core Build-Up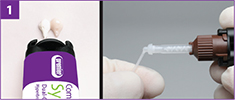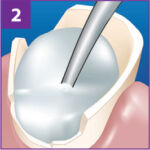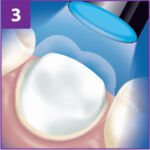 1. Bleed syringe. Assemble intraoral tip to mix-tip, attach to syringe and bleed tip.
2. Place intraoral tip into the base of the prepared tooth and dispense. Let material rise around the tip while withdrawing to eliminate air bubbles.
3.Light-cure for 30 seconds. If the core is larger than 8mm, light-cure for at least an additional 10 seconds.*
Check for complete hardness. The preparation can be finished immediately. Alternately, the core can be chemical-cured, final set-time is 4.5 minutes.