Course Description:
Matrix options, advances in shading/layering, and polishing of anterior direct composite procedures will be presented to enhance assistants' knowledge level of advances in materials.
Participants will be encouraged to share techniques for success from their own experiences in practice.
Course Objectives:
Upon completion of the course, the Dental Assistant will be able to:
Review advancements of newest adhesive and composite materials and discuss direct anterior composite placement techniques using value-based materials, matching viscosity to preparation.

Review criteria for properly placed anterior matrices and discuss tips for success with difficult preparations/situations.

Learn how fundamentals of anatomy are vital to esthetic success and why a consistent protocol leads to predictable results.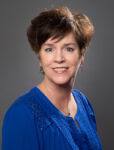 Theresa Groody, EFDA, CDA, M.Ed., has worked in the area of clinical and academic dentistry for more than 35 years. She teaches EFDA Lecture and Laboratory courses at Harcum College, where employed as the Director of Professional Studies. In 2011, Ms. Groody was appointed to fill the newly created EFDA position on the Pennsylvania State Board of Dentistry. As an appointed curriculum consultant for the American Dental Association's Commission on Dental Accreditation (CODA), Ms. Groody conducts site visits for assisting programs across the country and enjoys taking Assistants and EFDAs around the country to their next level.