ComfortView® Lip & Cheek Retractor provides greater comfort while maximizing access and visibility
Retracts lips and cheeks for optimal buccal and gingival access for dental hygienists and dentists alike

Maximum visibility and patient comfort

Ideal for both short and long dental procedures

Anatomic design with cushioned lip-supports that position lips away from anterior teeth and gums

Suitable for use in diagnostic, preventative, therapeutic dental applications, digital impression scanning, in-office professional tooth whitening and intra-oral photography

Autoclavable, latex-free
To learn more about our dental cheek and lip retractor and other Premier Dental products, be sure to contact one of our dental industry experts today; we're happy to assist. We want our customers to know that we promise to go the extra mile, every time.
Box of 2
9061381 Universal (white)
Lip and Cheek Retractor
9061383 Small (blue)
Lip and Cheek Retractor
Pack of 10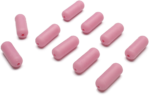 9061382 ComfortView®
Refill Cushions
ComfortView not available from Premier in Europe.