Place order through your dealer
Place order through your dealer
Reliability. Convenience. Value.
A superior sectional matrix system is here!
Introducing the Premier X5 Sectional Matrix System® – a complete, high-quality, 5-component sectional matrix system designed to achieve accurate Class 2 composite restorations with smooth contours and consistent interproximal contacts.
Made from a proprietary resin, the X5 ring delivers comparable separation strength to metal rings and provides exceptional value—especially when switching from expensive NiTi ring systems. The X5 system includes 10 rings (plus refill bags of 35 available) so you're assured a quick set up—no waiting around for sterilized metal rings or worry about corrosion, damaged or lost expensive metal rings.
There's never been a better time to make the switch to X5 and save without compromising quality results.
Strong, proprietary resin rings – reusable up to 5 autoclave cycles

Anatomically-shaped matrices – proper contouring + tight contacts

Compatible with other system's wedges and matrices

Easy to use compared to Tofflemire-type retainers

Priced right for exceptional value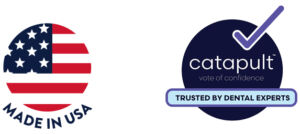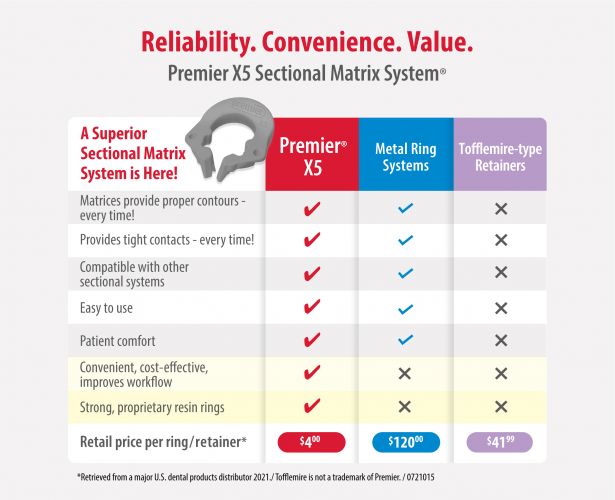 Premier X5 Sectional Matrix™ Refills
9061160 Premier X5 Sectional Matrix System® Matrix Refills – 3.5mm (25)
9061161 Premier X5 Sectional Matrix System® Matrix Refills – 4.5mm (80)
9061162 Premier X5 Sectional Matrix System® Matrix Refills – 5.5mm (80)
9061163 Premier X5 Sectional Matrix System® Matrix Refills – 6.5mm (80)