Place order through your dealer
Place order through your dealer
Hemostatic Retraction Paste System
Provides predictable hemostasis and soft-tissue management in minutes!
Your choice of easy application
Sleek syringe with bendable tips

Ergonomic unit dose dispenser and capsule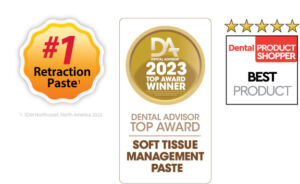 Traxodent is gentle, absorbent and fast.
The soft paste produces gentle pressure on the sulcus while it absorbs excess crevicular fluid and blood. The aluminum chloride creates an astringent effect without irritating or discoloring surrounding tissue. Traxodent provides predictable hemostasis and retraction in less time and with greater comfort.
Traxodent rinses clean without leaving a film2
Traxodent strong affinity to aqueous solutions allows the paste to be rinsed away easily and cleanly. Unlike other paste3, Traxodent will not leave material behind that will interfere with downstream procedures such as bonding agents.
1. Traxodent is the #1 choice among dental professionals. SDM Northcoast, North America 2022.
Traxodent Unit Dose Pack - Contains:
9007094 Traxodent Unit Dose Pack
Traxodent Unit Dose Syringe Dispenser
3 - unit dose syringe dispensers
9007089 Traxodent Unit Dose Syringe Dispensers
Traxodent Value Pack - Contains:
9007091 Traxodent Value Pack
Traxodent Starter Pack - Contains:
9007093 Traxodent Starter Pack
9007092 - Applicator Tips
Ideal for Digital Impressioning
After preparing the tooth, applying Traxodent, placing a retraction cap, and waiting 2-3 minutes -the prep was rinsed, dried and digital impressions were scanned. The scans were then sent to the dental laboratory for creation of the definitive crown.
Photos courtesy of Jason Goodchild, DMD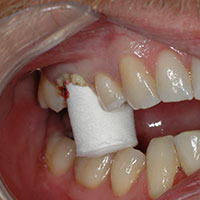 Place retraction cap on prep; have patient bite down on cap for 2-3 minutes. Rinse & dry before scanning.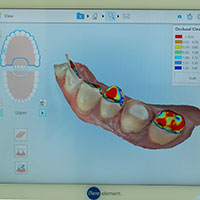 View of the prepared tooth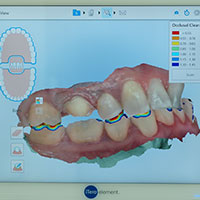 View of the occlusal reduction
Crown & Bridge with Retraction Cap
Using a retraction cap with Traxodent for crown and bridge procedures simplifies moving the paste into the sulcus and provides an atraumatic method for greater retraction. The pressure from the cap quickens and assists hemostasis while the absorbent cotton cap soaks up the fluid in the sulcus. Additionally, the cap quickly brings Traxodent into close contact with the hemorrhaging tissue, which allows the astringent properties to work faster.
Photos courtesy of Dean Elledge, DDS, MS UMKC School of Dentistry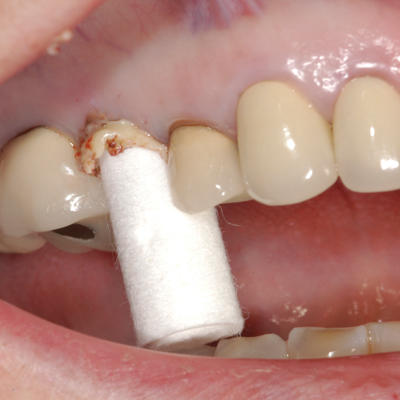 Place retraction cap on prep; have patient bite down on cap for 2 minutes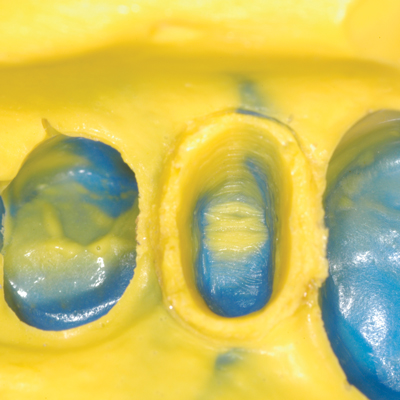 Tooth is prepared for a clean impression.
Crown & Bridge with Retraction Cord
Traxodent is ideal to replace the second cord in the double cord technique. This technique saves time and lessens the discomfort to the patient while providing greater retraction. Traxodent easily rinses away, eliminating the occurrence of break-through bleeding when removing the second cord.
Photos courtesy of Dean Elledge, DDS, MS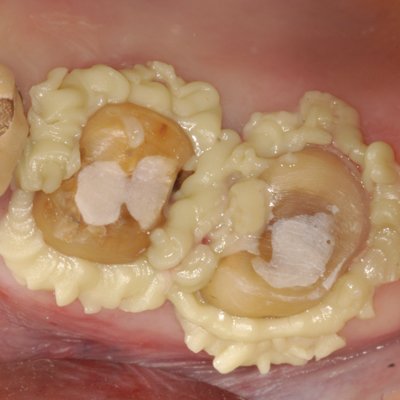 A single retraction cord is packed around the preps.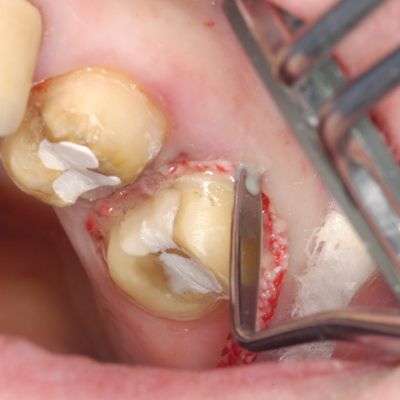 Place Traxodent over the cord. Wait 2 minutes.
Loose Tissue
For difficult tissue that will not stay retracted, Traxodent can be used with retraction cord and cap.
Photos courtesy of William Crinzy, DDS MS UMKC School of Dentistry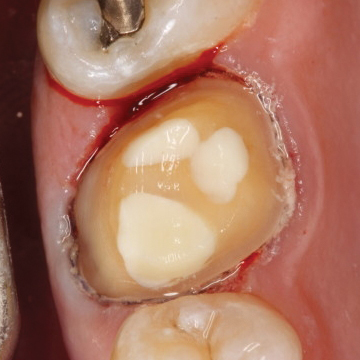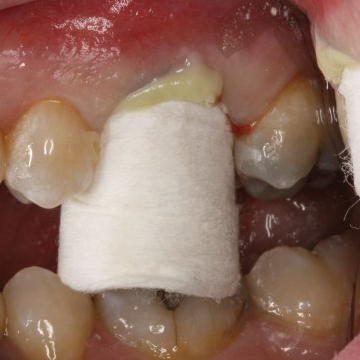 Place retraction cap on prep; have patient bite down on cap for 2 minutes.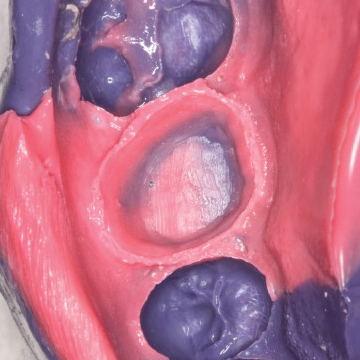 Impression with well-defined margins
CAD-CAM & Laser Assist Gingival Tissue Procedures
Traxodent is suitable to displace the gingiva before a CAD-CAM scan to get a crisp image without the soft tissue obscuring the view of the margin. Dentists who use lasers for retraction can benefit from Traxodent as it provides excellent post-op hemostasis after laser troughing.
Photos courtesy of Dr. Curtis E. Jansen, DDS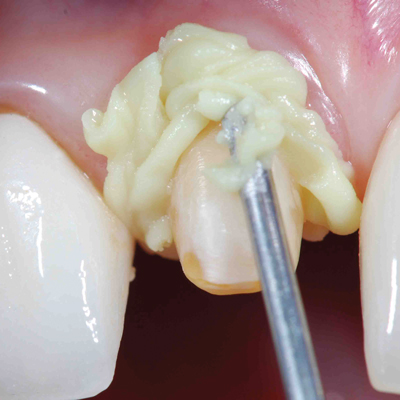 Traxodent is applied around prepared tooth.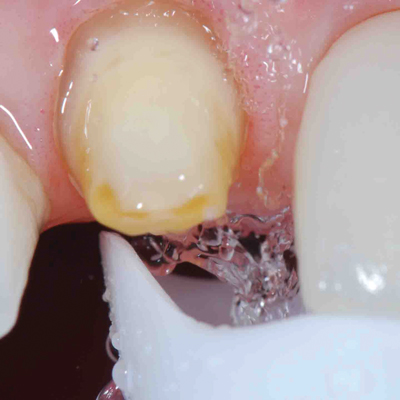 After 2 minutes, Traxodent easily rinses away.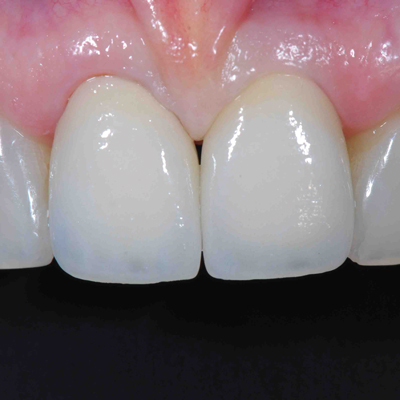 Final CAD-CAM restoration.
Routine Hemostasis
Traxodent offers a convenient and effective way to stop and control blood and crevicular seepage for all routine hemostasis procedures. The bendable tips can be positioned for areas that are difficult to reach. It is easy to dispense at the site of bleeding and will stay put, giving the astringent properties of the aluminum chloride a chance to stop the bleeding while providing temporary shrinkage of tissue without additional tissue trauma. The absorbent clay base has an affinity towards oral fluids and blood. It will draw in fluids and easily washes away leaving a clean field behind.
Photos courtesy of Richard H. Nagelberg, DDS, PC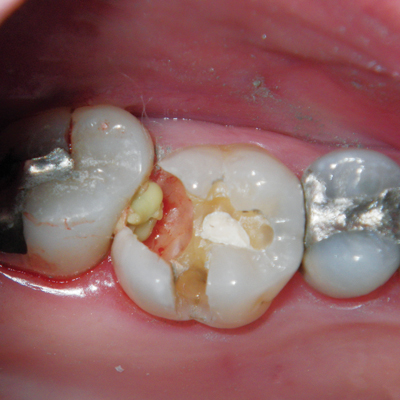 Old restoration is removed.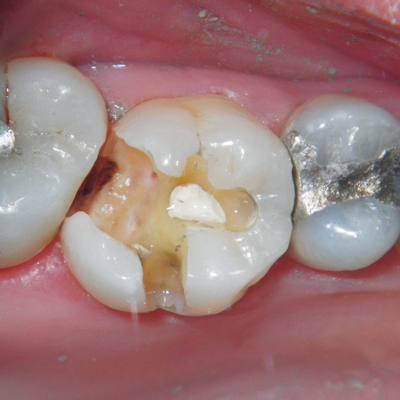 After 2 minutes, bleeding is stopped and field is isolated.